Lowest Course Price Allowed to Arlington Drivers
Great news for Arlington drivers and all drivers in Tarrant County! Our defensive driving class price is normally $35, but with TexasDefensiveDriving.com you get an additional $10 off - that means you pay as low as $25 - the LOWEST allowed price in the state of TX!

The Benefits of Online Defensive Driving in Arlington
Traditionally, Arlington drivers would have to sit in a boring classroom for 6 straight hours to meet their defensive driving requirement. With online defensive driving, Arlington residents can now fulfill the same 6-hour safety requirement without leaving home; it's a completely online course.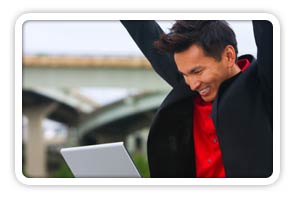 When you take a traffic safety course online, you get the option of doing that course from literally anywhere you can get online. Just think of the possibilities! We've had students take their course from home, school, at work, a coffee shop, and even while on vacation.
Being able to stay home is one of the biggest positive feedback points we get from our Arlington students. Single parents love that they don't have to get a baby sitter for the day. Or what if you're expecting a UPS or FedEx package and want to be home to receive it? Other students love having the radio on or the big game on in the background while taking the course - you definitely can't do that if you attend a traditional defensive driving class. And with online defensive driving from home, you certainly don't need special permission to go get a snack or if you need to use the restroom.
Believe it or not, taking defensive driving online will actually teach you a thing or two that you might not learn while in a boring, sleepy classroom. Why? Because when you learn online, you go at your own pace and are actually more likely to absorb the course information and retain it. There's no classroom lecture for you to fall asleep to when you go online. Instead, if you get tired, just log off and take a nap. Then come back later when you are refreshed and pick up where you left off. Nice!

When Is My Defensive Driving Certificate Due At The Court?
If you meet all Arlington court requirements for attending Defensive Driver School, you have 90 days from your court REQUEST date to finish the Defensive Driving Course (or Motorcycle Operator's Training Course (MOTC), if applicable). Remember to allow sufficient time for your completion certificate to be received from TexasDefensiveDriving.com (your defensive driving school). Your court will also need to see a certified copy of your official DPS driving record. We can help you obtain your driving record as well.

**Note that you do not have to set up a court appearance date to talk to a prosecutor for permission to take a defensive driving course. Just go to a Tarrant County court location within 10 days of your citation and request permission to enroll in a Driver Safety Course, like our TEA Approved TexasDefensiveDriving.com.
Don't Miss Your Court Deadline
Last minute due date approaching? Don't stress! Choose one of our rush FedEx delivery options and you can have your Arlington, Texas completion certificate expedited! Meet your online defensive driving safety requirements on time with TexasDefensiveDriving.com.
Can I Take a Safety Course for TWO Tickets in Arlington

No matter where you live in Texas, be it in Tarrant County or otherwise, you can only take a Defensive Driving Safety for ticket dismissal once each year. Also, you have to request permission to take this electronic driving school course for purposes of ticket dismissal BEFORE the appearance date shown on your ticket citation. Further, your Texas DPS driving record must show that you have not yet completed a Defensive Driver Safety Course within the past year preceding the exact date of this moving violation offense.
How Do I Know If I Am Eligible?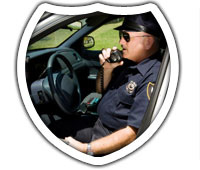 You may be eligible to take a Driving Safety Course (DSC) on any one of the moving violations shown on the ticket you were issued. You cannot take more than one driving safety course per year in Arlington or anywhere in the State of Texas to get a ticket dismissed. Also, if you were ticketed for any of the following violations, you may not be eligible to take an Arlington Driving Safety Course for that particular violation:
No auto insurance or failure to maintain financial responsibility
Speeding ticket for 25 mph or more above the posted speed limit in Arlington
Ticketed while driving in a Construction Zone when construction workers are present
Cited while riding a bicycle or riding a man-powered vehicle that is not a car
Leaving the scene of a collision in Tarrant County
Illegally Passing a School Bus
Also note: If you held a commercial driver license at the time of the traffic violation issuance, you are not eligible to take Defensive Driving Safety Courses, even if you were driving a non-commercial vehicle at the time of being cited.
Currently, TexasDefensiveDriving.com services all cities and counties within Texas state limits, including residents of the Dallas-Fort Worth-Arlington metropolitan area and the following nearby TX cities:
| | | |
| --- | --- | --- |
| Grand Prairie, TX | North Richland Hills, TX | Watauga, TX |
| Hurst, TX | Forest Hill, TX | Mansfield, TX |
| Euless, TX | Haltom City, TX | Fort Worth, TX |
| Bedford, TX | Colleyville, TX | Duncanville, TX |
| Richland Hills, TX | Irving, TX | Cedar Hill, TX |